Accelerate Montana: Powering Economic Growth with Microsoft's TechSpark Program!
July 24, 2023 •Press Release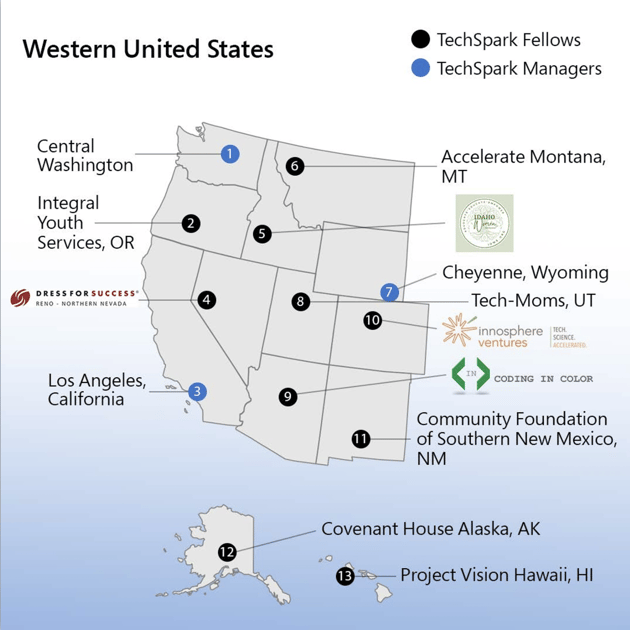 Accelerate Montana and Microsoft are to work together to ensure regional digital inclusion, job creation, and technological innovation in Montana – Accelerate Montana announced today that it will be working with Microsoft TechSpark to foster this work.

Accelerate Montana the portfolio of economic and workforce development programs affiliated with the University of Montana, serves as a vital resource for the people of Montana by fostering a strong workforce and enhancing economic capacity throughout the state. With a mission to support economic prosperity for Montana's workers, companies, and communities, the organization's programs cater to various needs. From aiding small businesses to empowering large enterprises in building skilled teams, Accelerate Montana supports entrepreneurs and empowers individuals to acquire new skills or embark on fresh career paths. This effort will be supported by a Microsoft grant to fund a TechSpark Community Engagement Fellow, who will spearhead local efforts, working with local partners. This Fellowship represents the first time TechSpark has worked in Montana.


"Since we launched TechSpark in 2017, we've helped communities secure more than $125 million in funding and helped create thousands of jobs," said Kate Behncken, Corporate Vice President, of Microsoft Philanthropies. "By expanding TechSpark to all 50 states, we hope to continue our hyperlocal, partner-driven work to help communities realize the potential of technology and foster greater economic opportunity."

Earlier this year, Microsoft announced the expansion of its TechSpark program to tackle digital inclusion in four focus areas: digital access, digital skills, computer science education, and digital transformation with local-based organizations. Since its inception in 2017, TechSpark has helped its eight communities secure more than $125 million in community funding, skill 55,000 people, and create 3,300 jobs. Read more about Microsoft TechSpark here.

"I am so excited to be a part of the TechSpark Fellows Program. This will be a great opportunity for us to help our Rural and Indigenous Communities regarding Broadband Access" -Ticia Cliff Learning and Career Coordinator who will be Accelerate Montana's TechSpark Fellow.

Accelerate

Montana, in collaboration with Microsoft TechSpark, is dedicated to addressing the critical challenges of digital inclusion, job creation, and technological innovation in Montana. By leveraging the power of technology and partnerships, their mission is to bridge the digital divide and ensure that all Montanans have equal access to digital resources and opportunities. Through innovative programs and initiatives, they aim to create a skilled workforce equipped with cutting-edge digital skills, fostering job growth and sustainable economic development across the state. By empowering individuals, businesses, and communities with the tools and knowledge they need to thrive in the digital age, Accelerate

Montana and Microsoft TechSpark are shaping a brighter and more inclusive future for Montana.




"The TechSpark Fellowship will further Accelerate Montana's objective of expanding access across the State to the training and skills needed for good paying in-demand jobs. We are extremely grateful to Microsoft for this opportunity. - Paul Gladen, Executive Director, Accelerate Montana.

To stay in the know for upcoming courses in the tech industry sign up for the Accelerate Montana newsletter. Where highlights, updates, and stories are shared each month.

For Accelerate Montana media inquiries, please reach out to Mercedes Bawden, the Marketing Manager for Accelerate Montana. Mercedes.bawden@mso.umt.edu or 406-594-5101.