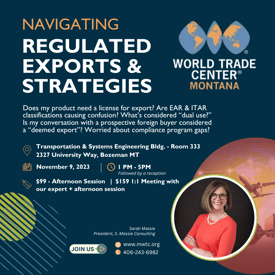 Is my conversation with a prospective foreign buyer considered a "deemed export"? Worried about compliance program gaps?Take a deep dive with Montana World Trade Center TechEx Team member Sarah Massie about the dos and don'ts of export licensing and compliance. Enhance your firm's export compliance IQ with this comprehensive training. From understanding essentials of EAR & ITAR regs to conducting effective self-audit procedures, this training equips you with the expertise needed to ensure lasting regulatory success. Learn to navigate export classifications, fine-tune your compliance strategy, and ethically address potential violations. Whether you're a newcomer exploring international trade or an experienced exporter aiming to optimize operations, this training offers actionable insights to thrive in today's complex global trade landscape.Montana Photonics Industry Alliance members and others will join us for a free evening social. Learn from your peers, network, and get practical feedback from MPIA firms selling internationally. Refreshments will be provided.AGENDA:1:00 PM: Demystifying ITAR, EAR & Product Classifications2:30 PM: Essentials of a Strong Export Compliance Program3:00 PM: Getting Started with Self-Audits4:00 PM: Navigating Self-Disclosures & Corrective Steps5:00 PM: Training Close5:15-7:00PM: Happy Hour & Brief Program Offered by MPIA.$99—afternoon session | $159—1:1 meeting with our expert + afternoon sessionTo reserve a time for a 1:1 session (45 min) with Sarah Massie between 8:30am and 12:30pm on November 9th, please register first for the 1:1 meeting registration. A MT World Trade Center representative will contact you via email to schedule a time between 8:30am - 12:30pm. First come, first serve for time slots. Only 4 spots left!
11/09/2023
https://wellwbc.org/courses-buildyourbrandandnetwork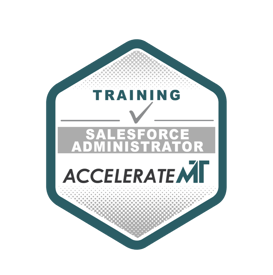 Join us for a celebration and networking night as we mark the conclusion of the Second Cohort of the AccelerateMT Tech Essentials: Salesforce Administrator Rapid Training program. We'll honor the 12 trainees who completed the 12-week course, equipping them with the skills to pass the Salesforce Certified Administrator exam and kickstart their careers as Salesforce Administrators. Program leaders will share insights, and two trainees will showcase their custom applications developed during the course. Employers can connect with tech talent, and potential trainees can explore upcoming training opportunities in Montana's tech sector.This course follows the successful Aim Higher training program framework, created by Cognizant ATG in collaboration with the University of Montana. Tech Essentials offers accessible, asynchronous training for Montanans seeking tech careers, regardless of prior experience.AccelerateMT collaborates with employers to offer skills-based training programs, including Tech Essentials, aiming to upskill Montana's workforce for better-paying opportunities in a changing job market. This curriculum prepares trainees for local or remote work across the US, benefiting all Montanans. Join us in celebrating their hard work and welcoming them to the high-tech community. Refreshments: Beer, Wine, and light appetizers will be provided.
09/27/2023
6:00 PM – 8:00 PM
Cognizant ATG East Glacier Café, Floor 2910 Wyoming Street, Missoula MT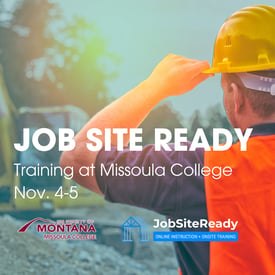 The Job Site Ready ("JSR") micro-credential is a job-preparedness program designed to equip learners with the work experience and essential skills to start an entry-level job in the Construction trades. Participants will walk away with exposure to tool use and maintenance, materials handling, workplace safety, industrial practices, and project management. The program combines online (30-hours) and hands-on experience (15-hours), concluding with onsite training offered several times a year and in locations all across Montana. The 15-hours onsite portion of this course will take place at Missoula College in Missoula, MT on November 4 and 5, 2023This price of this course includes: On-demand online instruction (30-hours)Onsite training (15-hours)Professional grade tool setMicro-credential certification questions? Reach out to Katherine Lechman at katherine.lechman@mso.umt.edu
11/04/2023
9 am - 5 pm
Missoula College