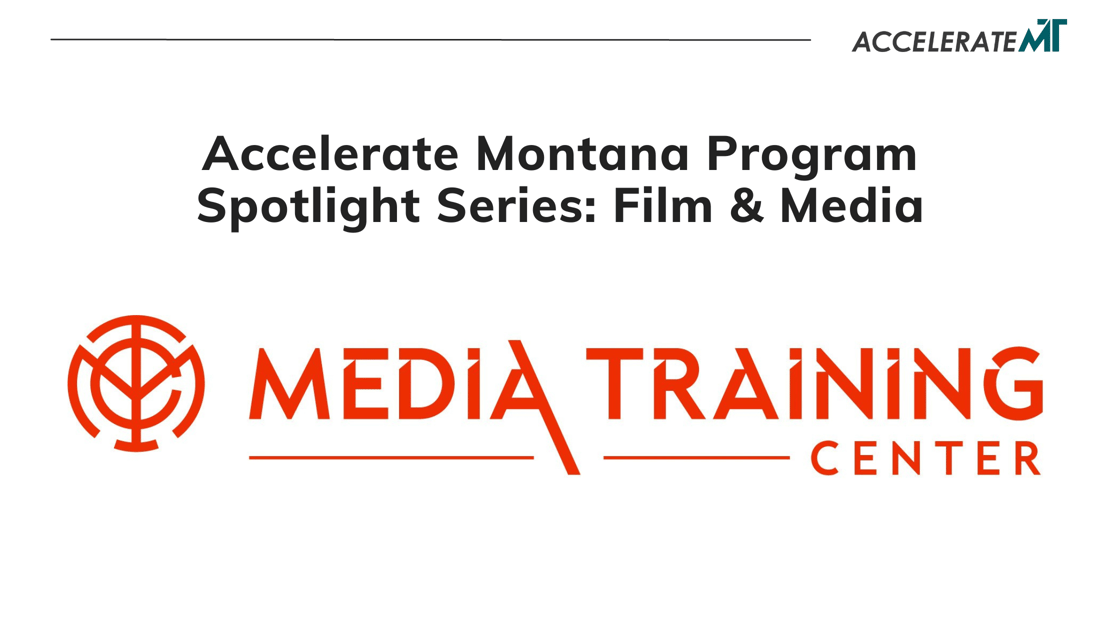 Rapid Training will help Montanans get "film set ready" and find jobs in the growing film and media industry
With the help of the hit show Yellowstone and its spinoffs, the film industry has been rapidly growing in the beautiful state of Montana in recent years. As more productions continue to be filmed in this state, the demand for trained and qualified production crew professionals is rapidly increasing. The "pilot" training course took place on August 15, 2022, in Butte, MT as an extension of the community's welcome of the production of the film 1923 which was just to begin filming in Butte and in the region generally. Since then, an all-new and first ever of its kind, fully online Production Assistant Rapid Training course has been launched and additional in-person Rapid Training courses will be available in 2023 with new dates and locations across Montana.
Origin of the Film and Media Rapid Training course
The genesis of the Film and Media Rapid Training courses was the recognition of a very specific opportunity. Lynn-Wood Fields, CEO and Founder of the Media Training Center stated, "I've worked in the film industry in Montana for over a decade. I know so many people in our industry here in the state. It's a great community of professionals, close-knit, but small. I noticed that the number of productions - and their scale - have been growing very quickly here in Montana and actually across the west. I also noticed that many of these productions brought skilled and trained staff in from out of state by necessity. We simply didn't have Montanans trained in the skills that film productions need - we didn't yet have folks who could hit the ground running. And yet there was a real opportunity for jobs on all of these productions - from the building trades to assistant positions and more. I knew we could help. We started by developing a Production Assistant course - a very 'in-demand' job with real growth potential".
First Film and Media Rapid Training course launched in Butte, MT - Summer 2022
Our first courses were developed and ready, and we wanted to leverage the excitement around the welcoming of the 1923 production to Butte. The city was planning a wonderful "get to know each other" sort of event and it seemed a great time and place to preview the Production Assistant Training Course in particular. So, in mid-August, 2022, AccelerateMT and the Media Training Center hosted the first Film and Media Rapid Training course in Butte, MT in partnership with Highlands College and Career Futures. This was a two-day event for people to earn a production assistant (PA) certificate. The event also showcased film professionals who were working with Yellowstone and 1923 including a COVID compliance officer and a casting agent, who were able to offer insights about their careers and experiences working in film. To kick off the training weekend, our 50 participants from across the state of Montana joined for a welcome event Friday evening. This included an opportunity to sign up to be an extra in 1923 and classes followed on Saturday and Sunday of that weekend.
What kind of people seem to be interested in the film industry? Who was the event for?
The film industry is very unique in one particular aspect (at least). A production is truly like a small village or city - we need creative talent, writers, camera people, musicians and such of course. But a set also needs electricians, construction workers and carpenters, food service and catering, fashion and design experts and people who can keep all those trains running on time. So "film people" tend to come from all walks of life and our event in Butte proved that. We had 50 participants from all sorts of backgrounds and with varying interests in different parts of the film industry. For instance, one person who's an accountant who was interested in doing accounting for film sets, one who just graduated high school, another who is a doctor interested in being a medic on sets. Students represented a wide range of age groups and all sectors of economic diversity.
How long does it take and how much does it cost for the online or in-person Production Assistant course?
As just an example, a person can be "film set ready" after completing the Production Assistant course in just around 16 hours with a two-day in-person intensive. The all online Production Assistant course can be completed in 12 to 15 hours and can be done at your own speed and on your own schedule. The cost of Accelerate Montana's Rapid Training courses for the Film and Media industry is around $500, depending on the complexity and length of the course. Fortunately, scholarship funds are available for eligible participants. Scholarships can be used to cover the cost of courses, travel as needed, and even childcare. Our goal in these courses, and in the additional new courses we are developing, is to be accessible and help folks get jobs. Our courses are designed with input from the industry, so trainees get precisely the skills employers are looking for. And all of our courses are designed to be fast, flexible, and affordable.
What happens to Film and Media training participants after they've completed the courses?
When we first designed the Film and Media Rapid Training courses, our goal wasn't to create a course. Our goal was, very simply, to get more Montanans hired on to productions here in our state and elsewhere. And we've set up the "backend" of our training so that those who complete the courses are immediately listed on a roster production companies rely on to hire skilled staff. For that reason, our team at AccelerateMT is incredibly proud of the participants that we had at our first Film and Media Rapid Training course and really excited to see who completes both our all online and in-person trainings. We received countless emails from students who were thrilled with their experience and are beyond excited to already be working in Montana's film industry. Anytime we can help people get jobs and economically improve their lives is a big win.
What can future Film and Media training participants look forward to?
The skills developed through the Film and Media Rapid Training course are very practical. Students have enjoyed the course because it prepares them for the basics of working in film including industry lingo and hands-on equipment setup instructions. The hands-on and practical design of the course really prepares students to be crew members and work on sets. Whether in-person or online, the courses have discrete modules that really make you feel as though you are getting precisely what you need to work on a set. You try to put yourself right in the job.
What to know about upcoming film and media trainings
Our goal is to launch a consistent schedule of Film and Media Rapid Training courses with one occurring on a monthly basis covering as many geographies in our state of Montana as possible. The newly launched all online Production Assistant course will enable folks even in more remote parts of the state to get the training as well. We'll be updating the schedule and courses routinely on social media and on the Accelerate Montana and Media Training Center's websites for course listings and future training opportunities. For more information and questions about upcoming courses, reach out to Lynn-Wood Fields: lynnwood.fields@mso.umt.edu.
Final thoughts
The beautiful thing about the film industry is that it has a ripple effect economically. Not only are our film trainings getting more Montanans careers in film, but an active film industry has economic benefits far beyond the location or set. Businesses large and small and skills of all types are needed. As more productions come to film in our state, it leads to more business for those with a Commercial Driver's License for transportation across the state, people with construction skills, as well as restaurants for food and catering, and even tourism. And in addition to the economic benefits of a healthy film industry, ultimately, as more Montanans get trained in film, more authentic stories from and about our state are being shared. More of our neighbors are receiving funding and are becoming skilled enough to tell their own stories, their way - and of course, they are all going to want to hire qualified Montana crew members to help create their film in our beautiful state.