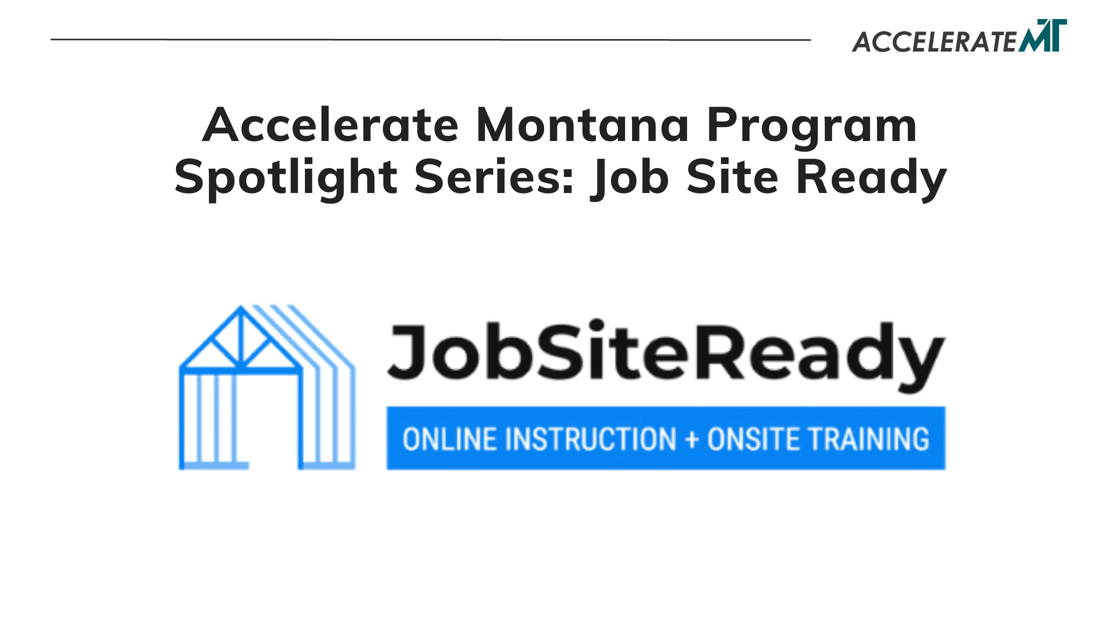 Welcome to AccelerateMT's Program Spotlight Series! In this series of blog posts, you will meet our leaders and team members who lead their fields and are subject matter experts in their areas of business and career development and learn more about each program within AccelerateMT. In this post, we'll explore Job Site Ready (JSR), AccelerateMT's entry-level construction micro-credential program. This program is meant to give trainees an introduction to opportunities in the world of construction and some of the basic skills that you would need to be successful as you begin your construction career.
What does Job Site Ready offer?
Job Site Ready is a Rapid Training course that prepares and exposes folks to what it means to work in construction to help people make a decision on whether or not it is a good career path for them. The main problem that Job Site ready solves is filling the gap that exists right now in the entry-level construction workforce. We do not have enough folks taking on those jobs and we're able to train people to fill those roles as the construction sector continues to grow in the state. Offering the Job Site Ready Rapid Training course helps bridge that gap to continue building Montana's construction industry.
The curriculum for this program is two-pronged in nature. It starts with trainees moving through 30 hours of online modules that students can complete at their own pace. The online portion of the program consists of 10 modules covering topics including the opportunities in the world of construction, what to expect on your first day of a job, construction math, marketing, blueprint measuring and reading, and tool safety. This gives students a really high-level overview of tools, materials, and ideas that they might encounter on a job site.
The second portion of the curriculum is a 15-hour onsite lab which usually manifests in the form of a shed build. In that portion of the curriculum, students are demonstrating the skills that they've learned in the online curriculum onsite, hands-on, and with an instructor and peers.
Students can complete the online portion of the program from any computer anywhere, but the in-person component is hosted at locations across the state. Currently, the program is available in collaboration with Missoula College, Gallatin College, Blackfeet Community College, Helena College, Bitterroot College, and Great Falls College. We are also excited to work directly with employers, high schools, and other entities to offer this training.
What to expect upon completion of a Job Site Ready course
Trainees who complete the Job Site Ready program tend to go a few different routes. Some go right into the workforce and then identify upskilling opportunities based on what else they want to learn. Some students go directly into a two-year college program to expand their construction education. Other trainees move directly into an apprenticeship program.
Job Site Ready and AccelerateMT are also in the early stages of conceptualizing additional Job Site Ready courses, and our team is constantly speaking with professionals in the industry to discover additional needs in emerging workforces.
Why is Job Site Ready important?
One of the main reasons that this program is important is because the construction sector in the state of Montana is an aging segment of the workforce with many of the employees in this sector aiming to retire in the next 5-10 years. Additionally, the construction industry in Montana has grown by more than 12% over the past two years (MTDLI, 2022). However, only 3% of Gen Z desire a career in construction (NAHB). As you can see, the industry is growing but we are losing more people in the field than we are gaining. Entering a field with such a high demand yields incredible growth opportunities.
Construction is essential to all of our lives. We have our homes, roads, and buildings that we work in and spend time in, but we're getting to this point where we don't have enough people in the workforce to manage all of those projects that impact our lives.
If you're not interested in pursuing a traditional higher education route or are looking to explore your career options, Job Site Ready can accelerate your career in construction without a four-year degree. Taking this course can help you secure a career with the wages that you desire to make a great living.
The origin of Job Site Ready
Job Site Ready was first piloted a couple of years ago at Missoula College and was led by John Freer, the director of Trades Education at Missoula College. In collaboration with multiple Industry partners, Freer and his colleagues in post-secondary education across the state identified a need and designed a short construction training program that could be held frequently and give candidates a head start on a new career in construction. Many people who are hired onto a job site have zero training and have never been on a construction site. They lack the overall skills and awareness required to be safe, productive, and successful. Without training, many new hires aren't as effective and safe as supervisors would like them to be right away, and many candidates leave because they just weren't prepared. While some individuals come to the job site well prepared, with degrees in Construction Management or years of real-world experience, far too many do not. Job Site Ready aims to reduce this skills gap with the short Rapid Training course to offer individuals the essential construction training without the longer investment of a two-to-four-year degree.
With this in mind, Freer and his colleagues worked with industry professionals across the state to develop the Job Site Ready curriculum and distill the key skills that you need to step onto the job site and be safe and productive. Job Site Ready was initially started as a for-credit program at Missoula College, and then was also spun into a Rapid Training course. Now with  AccelerateMT's help, we've been able to partner with other colleges across the state to give candidates a head start toward high-wage, high-demand jobs.
Where is your program based and what communities does it serve across Montana?
Job Site Ready is accessible all across Montana. The online portion of the program can be completed from anywhere. We've worked with a number of institutions to make sure the in-person portion of the training is as geographically accessible as possible. We currently have programs in Missoula, Bozeman, Great Falls, Browning, and more and we're also continuously looking for more opportunities to expand our trainings across the state. If you are interested in partnering with Job Site Ready to offer construction training in your area, contact Katherine Lechman at katherine.lechman@mso.umt.edu.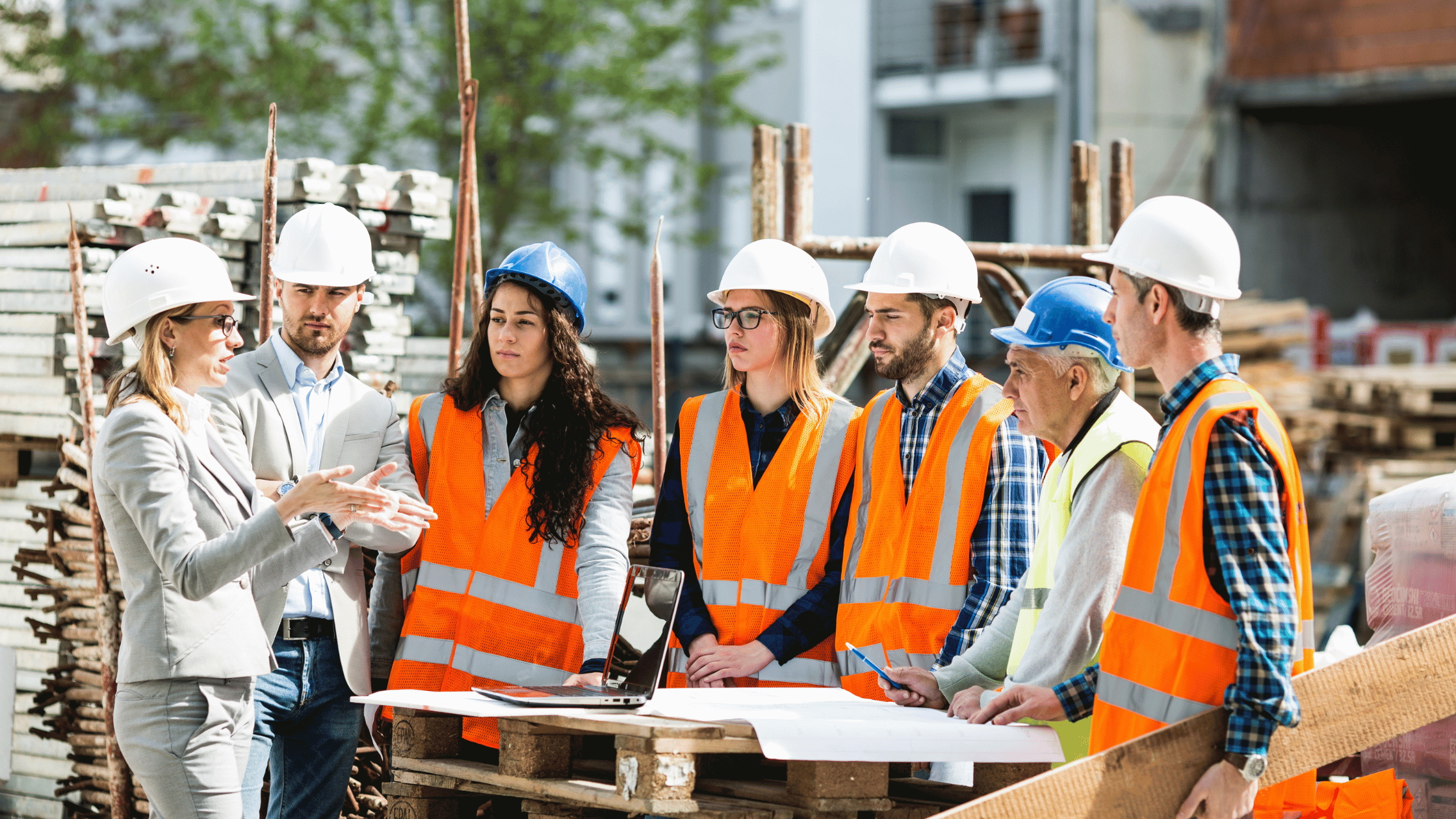 Why should you consider the Job Site Ready Rapid Training course?
If you're curious about a job in construction, Job Site Ready's Rapid Training course is a great way to find out whether construction is right for you. Our program offers an opportunity to learn about the industry before committing to a career in construction. For those who are pretty certain that they want a career in construction and are interested in gaining exposure and experience, this is a great way to get started. This program will allow you to step onto the job site more confidently. Our trainees understand what to expect on the job, what their roles and responsibilities will be in their careers, and they will have the ability to contribute to projects much quicker than if they were to start their careers without training.
Our team also works with construction employers in Montana to ensure that this training makes a difference to their companies and has an impact on employees and candidates. We work directly with companies that use the Job Site Ready Rapid Training course as part of their training and onboarding processes for new employees. Several other employers are always looking to interview graduates from this program. Working closely with these employers helps us know that the skills that our course teaches are applicable and relevant to what construction companies are looking for.
What salary can trainees expect upon completion of the program and how much does the course cost?
The starting wages for entry-level construction positions in Montana are around $25/ hour or more. This number varies across different companies and has been increasing in recent years due to the growth in the construction industry. Many construction companies also tend to operate on 4-day work weeks with 10-hour days which offers flexibility and work-life balance. The opportunity to continue growing your salary also persists, especially with a willingness to upskill and grow.
This wage is especially good considering the relatively low cost of the investment of the Job Site Ready course. Currently, the course costs $750 which includes the online and onsite portions of the training as well as a professional grade tool kit that students will be able to use onsite and take with them for their future construction careers. If the cost of the program is a concern to you, please reach out to inquire about scholarships and financial assistance.
How does the construction industry impact Montana's economic development?
Construction impacts just about every part of Montana's economic development. Construction is responsible for the roads and infrastructure across the state and ensuring the workforce is prepared and ready to complete those projects. Building, remodeling, and maintaining stores and businesses across the state is in the hands of construction workers which even trickles down into other aspects of the state's economy. The construction industry also plays a huge role in developing affordable housing to accommodate the growing population across Montana.
Final Thoughts from Katherine Lechman, Program Manager of Job Site Ready
"I want people to understand how integrated the construction industry has been in the creation of this curriculum and in its deployment. We are in constant conversation with employers who are either employing our graduates or trying to use this curriculum in their recruitment and training experience. Nothing that we do here happens without a conversation with the folks who are experiencing the impacts of this curriculum on the ground. I think that's something that makes this so unique to other education and training experiences"
Browse Job Site Ready's courses and register today: