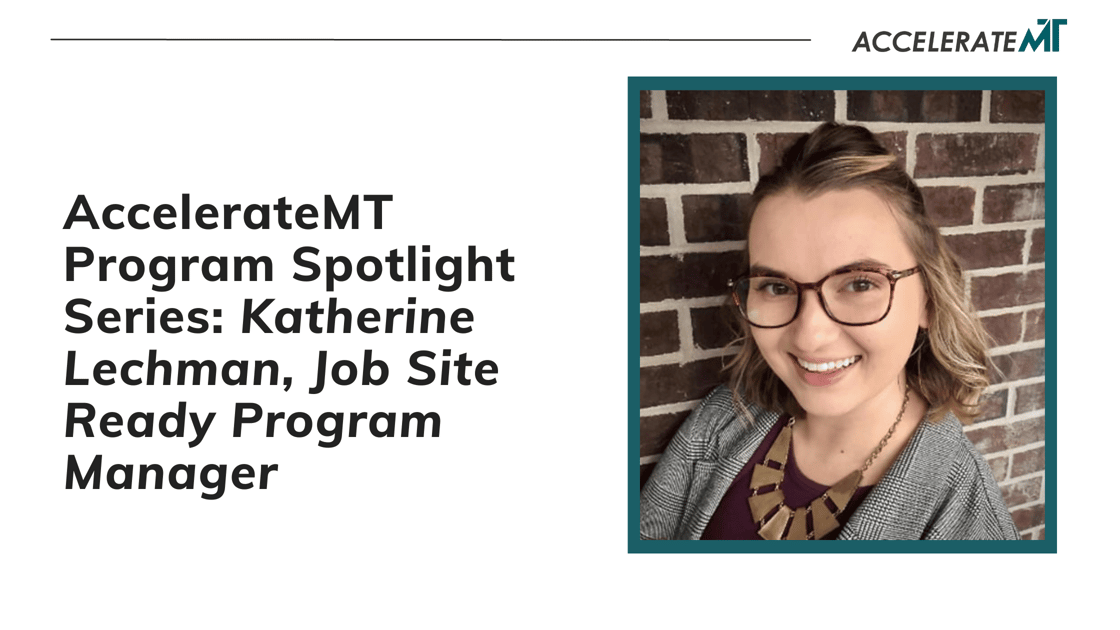 Welcome to AccelerateMT's Program Spotlight Series. In this series of blog posts, you will meet our team members who lead the various economic and workforce development programs that are the core of AccelerateMT's efforts.
In this post, we are getting to know Katherine Lechman, the Program Manager of Job Site Ready. The Job Site Ready Rapid Training course offered in partnership with AccelerateMT is designed to provide training in the critical skills that individuals need to qualify for and succeed in the construction industry.
This interview has been edited lightly for clarity.
Katherine is the Job Site Ready Program Manager and is based out of Missoula. In addition to her work with AccelerateMT, she teaches COLS 194: You at UM, and is a doctoral student in the educational leadership department. When she isn't working or studying, you can find her hiking with her spunky pup and reading a good book.
How did you get started with Job Site Ready and in the construction industry?
"My professional and educational backgrounds are in higher education and post-secondary education. I have a Master's in Student Affairs Administration and a Graduate Certificate Post-Secondary Learning. Currently, I am working on my Doctorate in Educational Leadership to dive deeper into my passion for the way that education connects with employment and workforce outcomes.
I came to this role after working at the University of Montana as an Employer Relations Manager within the Experiential Learning and Career Success office. In that position, I had the opportunity to work closely with industry partners and learn why they were so excited about our students and what they were looking for in students when they graduated.
When I learned about what Accelerate Montana was going to be doing with the Job Site Ready program and other Rapid Training programs, I was super excited about continuing my work and education in direct connection with employers. In my past role, I had the opportunity to work on some career fairs that were directly connected to the construction industry which excited me about the opportunities that the industry presents.I was drawn to Job Site Ready and the opportunity available to continue expanding opportunities for post-secondary learning."
What interested you the most particularly about Job Site Ready and construction?
"Both my personal and academic interests are in micro-credentialing and non-credit education, and Job Site Ready checks those boxes. The opportunity that we have here in the broader post-secondary landscape is to take these micro-credential experiences and create lifelong learners and pathways to additional learning and workforce outcomes that are positive for the learner and the employer.
Job Site Ready, in particular, is super unique because we often work with trainees who don't see themselves as post-secondary learners and don't see themselves going to college. Through Job Site Ready, we have many people who never thought college was meant for them who end up moving on to a construction program at a two-year college across the state, which is incredible.
We also have a ton of individuals who end up moving directly into the workforce without a college degree. They're all really excited about lifelong learning and upskilling themselves over time. Programs like Job Site Ready provide an opportunity to expand access to post-secondary education for folks who maybe didn't see themselves fitting in that box that we've built around it as a society."
What are you most passionate about when it comes to the goals of your program or the goals of Job Site Ready and AccelerateMT?
"In everything that we do, we center the outcome around the learners and trainees whom we're working with. In the Rapid Training Program, we're working to get folks on a path to have careers where they're making $50,000 or more.
Beyond just the direct workforce outcomes that we're working on with trainees, the work that we're doing improves the quality of the lives of Montanans. We're helping Montanans get the training and education and experience that they need in an accessible fashion so they can afford a financially comfortable life in Montana, raise their families, and contribute to our communities.
Unfortunately, we see so many Montanans needing to leave the state to find better jobs, or seek somewhere more affordable as the cost of living increases. Through these Rapid Training Programs, we're able to arm Montanas with the skills they need in a quick fashion to improve their quality of living in our state without feeling the need to move elsewhere."
What do you find most important about Job Site Ready?
"It's most important to me that we are preparing folks to have careers that they and their families feel good about and that they're able to work and stay in their communities. After completing a program, there are so many different avenues that trainees can take, whether it's starting their career, taking additional upskilling courses, or pursuing a 2-year or 4-year college degree. When folks work with us in these programs, their opportunities are multiplied, not limited. I think that's the most important part of what we do."
What is your biggest dream for the future of job site Ready at Accelerate Montana?
"I'm excited about the way that Job Site Ready is set up with the onsite portion. The 15 hours of practical application offer a real opportunity for us to work on projects that contribute to the community while learning. We're working through some of these details and ideas right now, but we are actively trying to develop ways that we can contribute to local communities as we're learning those onsite hands-on skills. I'm really excited about the potential this program has to create communities of learning and practice across the state.
We also have a couple of rural school districts that are starting to have conversations about how we might bring this workforce training into the classroom. As we engage more and more high schools and younger folks, I would love to create these webs of connection where we can learn from trainees and instructors about how to continuously improve Job Site Ready."
What is one big idea that you'd like readers to walk away with?
"Learning and upskilling is a lifelong experience. We have an opportunity with AccelerateMT's Rapid Training Program to both respond to an immediate need, and understand that the needs of trainees will change over the course of their careers.
If we can work on getting into this lifelong learning and upskilling mentality, our communities, businesses, and the state as a whole will be better off. I can already see in my own anecdotal experiences with learners whom I have had the opportunity to work with that folks are learning about what career-long development looks like."
Closing thoughts
"We're always looking to partner with more employers and hear their feedback and explore ways that they get involved, whether that's through a scholarship or a sponsorship of a trainee.
For potential learners, know that everyone who engages in this program is extremely supported. You'll receive support from your instructor throughout the online and in-person portions of the program. We also offer administrative assistance and career coaching through myself and other members of the team. This is not a transactional relationship. We're here to provide some more holistic support too, in addition to the support while you're in the program."