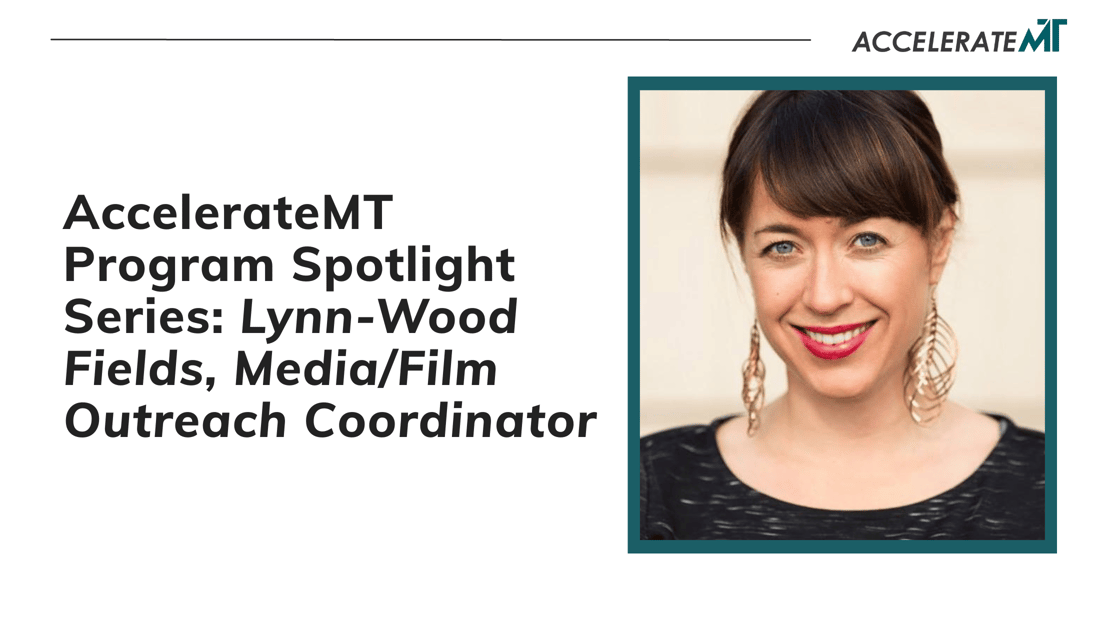 Welcome to AccelerateMT's Program Spotlight Series. In this series of blog posts, you will meet our team members who lead the various economic and workforce development programs that are the core of AccelerateMT's efforts.
In this post, we are getting to know Lynn-Wood Fields, the Founder and CEO of Media Training Center and the Media/Film Outreach & Recruitment Coordinator at AccelerateMT. The Film and Media Rapid Training course offered in partnership with AccelerateMT is designed to provide the training in the critical skills that individuals will need - and production companies require - to qualify for a career in Montana's growing film industry.
This interview has been edited lightly for clarity.
My name is Lynn-Wood Fields and I have been doing film for about 11 years. I consider myself a film advocate specifically for the state of Montana because I love the industry and believe that film can provide an economic advantage, job creation, growth, and just overall creativity.
I am in love with film and media. I feel very, very lucky I get to do it as a living. I have done everything from directing to editing to executive producing. Another aspect I got involved with in 2018 was the legislative side of film, which specifically focuses around tax and film incentives for the state of Montana so we can build the film industry here.
Prior to my time with AccelerateMT I helped write the MEDIA Act in 2019 which stands for Montana Economic Develop Industry Advancement Act, which really states that film is itself an economic industry. When that bill passed, I noticed two things were missing that needed to be bridged.
How to connect productions with crew.
How to get Montanans trained to work as crew on film sets.
So, I created the Media Training Center and partnered with AccelerateMT to create Rapid Training courses that provide the training for people to get what we call "set-ready" and that allows us to connect them to film opportunities in the state of Montana.
Tell us your story. How did you get started with film and media?
"My undergrad was in English and Teaching for Secondary School. I taught seventh and eighth grade and I also taught [in] New Zealand for almost a year. I came back and my dad, who was a builder in Whitefish, Montana, asked if I would consider getting my real estate license. I got my real estate license, did that for three years, and then in 2008, there was a huge economic recession, especially in real estate.
Right around that time my brother sent me a book called Perma Red - which is a beautiful book written by Debra Magpie Earling. After reading it, I knew this book should be a film. I had a lot of other film ideas and decided to go back to school and learn about film.
In 2011 I got my Master's in digital filmmaking, and at that same time, I optioned the book Perma Red and spent almost the next 10 years getting it to a network, which is where it is being considered now. In the meantime, I worked on various other projects. I've been to Sundance a few times, ran three film festivals, and had my films [shown] in about 50 venues. Now I'm at a place where I'm executive producing a few projects and running film training."
What interests you the most about the film industry?
"I started in the creative world, but then quickly got really pulled into the business side of filmmaking, which you don't always learn about in film school. A really hard part of film is that people have beautiful ideas and beautiful scripts, but unless there's funding, you're not seeing them.
I eventually got into the executive producing side, which is trying to get these projects green-lighted. Grants and private investors and major productions - I've done it all. I wouldn't say that I thought I was going fully into the business route, but now I'm really involved in the [part of the film] world that helps get productions launched.
I really am in love with the idea of storytellers being able to tell their stories. I grew up in Whitefish between two reservations and yet did not know a single indigenous person, other than those who lived within the tribal community. Then when I started working on Perma Red it was pretty apparent that indigenous people in Montana don't get to tell their own stories. That's been something I've been working on: How can we help indigenous writers, directors, and cinematographers get funded and get their stories told?"
Film is a sprawling and complicated business. What aspect of it are you most passionate about at the moment?
"The thing I'm most passionate about right now - because I'm engaged in the economic sector - is that the industry creates good-paying jobs. I'm really, really passionate about the fact that we have huge productions in the state of Montana and we're working to get more Montanans on production sets, and they're getting paid.
You know, because of COVID, and like a lot of places where remote workers have come into a state, those who've lived here in Montana their whole lives suddenly can't afford living here. I'm constantly thinking, how can we help create economic benefits? Film is a really good fit. It presents great job opportunities for people in Montana. Montanans are super hard workers. They love to tell good stories. My passion has kind of moved away from the creative side of storytelling to the economic side of 'crewing up'."
What do you think is most important about AccelerateMT's Film and Media program?
"Well, I think it's revolutionary. Over a decade ago I went to film school, and I'm still paying off my student debt. I have created courses that do not put people in debt but do teach them how to get on sets. I like the idea that we can quickly help people increase their income levels. As somebody who has a family, it's really important to me that young people, veterans, and indigenous families have a way to make a good living wage."
What is your biggest dream for the future of the film program at AccelerateMT and the film industry in Montana as a whole?
"Right now we have maybe a maximum of 500 crew members in the state who can work professionally. I would like to increase the number of skilled Montana-based crew to 1,500 through all parts of the state.
One of the big goals I have is to train as many people as possible and get them moving up in the industry to these above-the-line and higher-level jobs so they can make really good pay. I'm working to increase the number of people trained for this career and simultaneously get more projects coming into Montana so they can work full-time.
A film crew has multiple different positions that come together to tell the story: cinematographers, grip, gaffers, hair and makeup, and catering. Currently, at AccelerateMT we're focusing on entry-level production assistants so that people can get on sets through our Rapid Training courses."
What is one big idea that you'd like readers to walk away with?
"There's nothing more amazing than being able to work in a job that you love. I feel like everyone I know who works in film and media loves it and feels blessed to be able to work in it. My passion is to share that with more people so they can have a job they love in an industry that is all about telling stories."
Any final thoughts?
"I feel so passionate about this because I love Montana. I have a real love for the state and I feel really grateful to have a family, kids, and a husband with whom I get to explore Montana. Combining your job with your lifestyle is a gift.
That's something I'm trying to provide here in our state through Rapid Training courses. I'm proud that they're accessible and attainable to anyone. Whether you're somebody who's recently graduated high school and unsure of what you want to do, or somebody who already has a job and a family and needs to fit the training in on the weekend or after work - it's accessible to all people. I'm proud of that.
We're offering all the things, skills and insights, that I wish I had learned, and we've condensed it into a very tangible way to learn filmmaking and how to be a crew on a working set.
We've distilled these Film and Media trainings down to the most important, relevant, and helpful information so that participants have the confidence to step onto a set and start working. These courses are confidence-boosting in short, efficient lessons. Participants will come away understanding the industry language, walkie-talkie protocol, set protocols, film equipment, and how to fill out relevant paperwork. Once they complete the course they can come on set with real confidence that will help them move up the ladder faster because they will be better qualified and more professional."