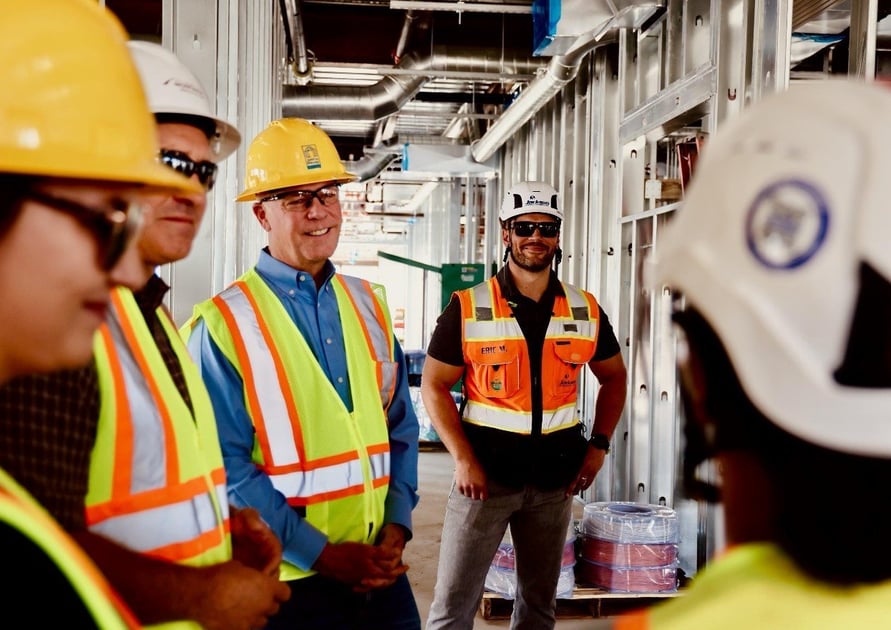 Montana High Tech Business Alliance
On August 8, 2022, Accelerate MT hosted Governor Greg Gianforte for an event at Missoula College announcing the Tech Careers Rapid Training Hub, a one-stop access point for training that leads to tech industry credentials and careers in Montana. Attendees included tech employers, recent graduates from rapid training programs, and education leaders from across Montana.
The objective of the Hub is to provide Montanans with fast, flexible, and affordable training for skills needed to gain entry to good-paying Montana tech jobs. Montana's tech industry is growing seven times faster than other sectors. Tech employers say limited availability of skilled workers is one of their biggest barriers to growth.
In addition, other industries such as healthcare, manufacturing, and financial services are increasingly tech enabled and in need of skilled technology professionals.
The Hub brings together a range of tech training courses, including existing short-term training programs such as Montana Code School and new programs Accelerate MT is developing in partnership with 2-year colleges. Tech career entry level training pathways that will be available through the Hub include:
· IT Administrator
· Broadband Technician
· Software Developer
· Cyber Security
· Salesforce Administrator
Software developer and cyber training are currently available for enrollment via the Accelerate MT website and the Hub is scheduled to launch this September. The Tech Careers Rapid Training Hub is part of the Accelerate MT Rapid Training Program, a State of Montana ARPA Workforce Commission funded initiative.
"This idea of building public private partnerships and connecting the Academy with employers creates better outcomes for both sides of the equation," said Governor Greg Gianforte. "I think it's probably one of the brightest spots of innovation in our whole university system. We were thrilled to provide some resources to help expand the operation."
Accelerated Learning Empowers Career Changers, Employers, Remote Workers
All rapid training pathways are less than 6 months in duration and will be offered in a variety of accelerated bootcamp and part-time formats. Courses will be delivered online and combine self-paced learning with live instruction, teaching assistants, and career coaching. Students need not have previous experience in technology to enroll.
Stephanie Back, a recent graduate of the Montana Code School, shared her experience transitioning into a tech career after completing the 18-week coding bootcamp for back-end development. Back graduated from the Code School in November of 2021 and now holds a full-time position with education technology company Promineo Tech.
"I started in June 2021 and had zero knowledge on code," Back said. "My background lies in microbiology and biology but I found myself longing for a daily challenge. I look forward to learning as much technology as possible and just furthering myself not only as an individual, but as a professional."
Missoula tech consulting firm ATG, a Cognizant Company built its successful Aim Higher training program in partnership with Accelerate MT in 2019. The 12-week paid training program teaches Salesforce and business consulting essentials to people who have little to no technology background.
Aim Higher is now delivered virtually, expanding participation to rural and tribal communities. To date over 150 students have completed the program and been hired by Cognizant at a salary double the median wage in Missoula. Some employees work remotely from small towns like Elmo, Havre, and Libby.
ATG Cognizant is collaborating with Accelerate MT to create a Salesforce Essentials Rapid Training Program that will leverage knowledge from Aim Higher to create a more accessible pathway to Salesforce careers.
"What we're looking to do with Accelerate MT is more at your own pace with structured mentorship and powerful curriculum that reaches Montanans who maybe couldn't commit to a full 30 to 40 hour a week training program but want to take the first step into a technology career," said Kate Pace, Director of Strategy Operations for ATG Cognizant.
Colleges Across Montana Partner to Make Training Fast, Flexible, and Affordable
The Rapid Training Programs will leverage courses offered by 2-year colleges, tribal colleges, and other training providers across the state, working with educators to adapt the material to a faster-paced, shorter delivery model. While training will primarily be online, the goal is to connect trainees with local colleges and employers and encourage continued education after completion of their initial program.
Seven of Montana's two-year colleges were represented at the August 8 event. Stephanie Erdmann, Dean of Great Falls College MSU, has seen productive relationships form through the collaboration.
"Working with Accelerate MT and the faculty across the [Montana University System] on sharing content and information, and resources, and professional development opportunities, really has brought the faculty together across the state," Erdmann said.
Accelerate MT is also partnering with the Montana High Tech Business Alliance to connect trainees with prospective employers and expand awareness about different roles, career paths, and employers.
Learners will have the opportunity to explore their potential interests and strengths before committing to a specific career and learning track. The Hub will also include training on workplace readiness skills such as communication, project management, and teamwork that are essential to helping technology workers deploy their technical skills inside an organization.
Programs vary in costs, but funding may be available through the Montana Job Service to pay for course fees and in some instances related costs such as purchase of a computer. In addition, employers may offer scholarships or other financial incentives for participants.
Individuals and employers interested in learning more can register their interest via this link.
"Montana's New Tech Careers Rapid Training Hub Will Expand Access to High-Paying Tech Jobs", Sept 9, 2022,https://www.mthightech.org/news/montanas-new-tech-careers-rapid-training-hub-will-expand-access-to-high-paying-tech-jobs