Production Assistant Course Certification
Start Date
October 12, 2023
End Date
October 13, 2023
This two day in person Production Assistant training in Missoula, MT will be held at the Roxy Theater during their MTFF festival on Oct. 12-13th (Thursday/Friday) from 9am-5pm each day. The festival will also provide full festival screening tickets for all participants of the PA course.
"The Montana Film Festival has always been a working filmmaker's festival. We love having filmmakers from all stages of their careers watching films together and planning for their next big project. By partnering with AccelerateMT, we get to meet the next generation of filmmakers as they start their journey and look forward to seeing their names in the credits of films in years to come."
Full tribal scholarship provided generously by the Tribal Office of Tourism available and apply with the link below: https://bit.ly/TribalScholarship

This PA course will focus on film lingo, equipment names, paperwork, and walkie-talkie protocol. Participants will also get a chance to unload a film truck and work with equipment.
Who:
The creator of this PA course, Lynn-Wood Fields, is an Award-winning filmmaker, producer and educator. Her work has since gone on to screen at over 50 film festivals and venues globally. She also interviewed industry professionals from Netflix, Amazon, NBC and other productions to get their "pro-tips" on what they would like PA's to know before working on sets. Lynn-Wood also created a database that connects productions to crew. Previous PA graduates from her courses have gone on to work for Yellowstone TV series, 1923, NBC, JK Simmons productions, Into the Wild and many more.
Upon Class Completion:
Participants will receive a Course Completion Certificate that attests to the content that was provided in training. Additionally, they will receive a link to valuable resources including the class syllabus, example production company protocols, and much more.
They will be given the opportunity to be listed in Media Training Center database of those who have completed this training and which is a valuable and well-used resource to productions filming in Montana currently and in future. Anyone from this PA course will get a virtual badge and moved to the top of the vetted list for productions to hire from on their projects.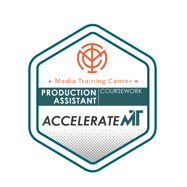 Badge Skills:
Collaboration
Creative problem solving
Teamwork
Interpersonal communication
Familiarity with film industry hiring & production paperwork
Knowledge of equipment used on film productions
Ability to communicate using film production-specific lingo
Competence communicating using a walkie talkie
Preparation to contribute from the 1st day on set
Awareness of how to network and gain employment in the film industry
Credentials Earned: Badge
Industry: Media and Entertainment
💲 Cost of course: $500
Training Providers:
Media Training Center
Course Delivery Mode: In-Person
Location: 718 S Higgins Ave Missoula, MT 59801
Contact person:
Lynn-Wood Field
Contact email: lynnwood.fields@umt.edu
Currently Enrolling Learners